Some Resources For These Times—Including The Rockettes!
I began my Tantric practice many years ago during the AIDS pandemic. I was looking for a spiritual practice that was body and sex positive, that could support me in the huge emotional shifts I was going through, and that provided a sense of healing, purpose and peace. Urban Tantra was born out of both the times I was living in and what I learned from my own personal Tantric practices in those times. It has continued to grow and evolve over the years as the Urban Tantra community has grown exponentially, both geographically and intersectionally. Each and every person who has a connection to Urban Tantra has contributed to what it is now, and what it will become next.
Like you, I am profoundly affected by the worldwide pandemic that we are all living through. We each have our individual emotional and physical reactions to our new reality. We are also a participant in a global collective human experience.
I have no magic answers for these times. Truthfully, I'm not looking for answers right now—I'm searching for the right questions. For me, answers are useless if they aren't attached to the right questions. This week, the questions were "How can I help my friends and family who are particularly vulnerable at this time?" and "How can I soothe and center myself while feeling useful?" The answers? I'm sitting at my sewing machine making face masks and preparing them for mailing. And writing this email to you. That's this week. Next week the questions will be different and so will the answers.
This week I have been inspired, soothed, and motivated by a few resources I think you might find helpful. As the weeks go by, I'll continue to pass along things that might provide long or short term answers to our unfolding questions.
With Love and Lots of Breath,
Barbara
Thought for the Week:
(Thanks to Shelley Dungan of the Sacred Center in Portsmouth, RI)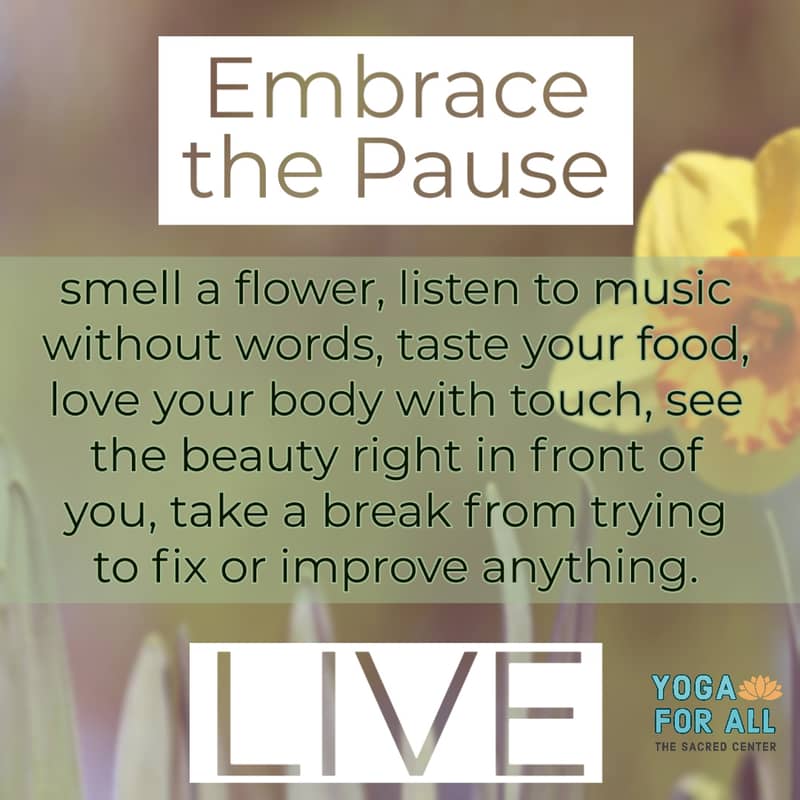 Read/Listen:
Why You Should Ignore All That Coronavirus-Inspired Productivity Pressure
… "On the other side of this journey of acceptance are hope and resilience. We will know that we can do this, even if our struggles continue for years. We will be creative and responsive, and will find light in all the nooks and crannies. We will learn new recipes and make unusual friends. We will have projects we cannot imagine today, and will inspire students we have not yet met. And we will help each other. No matter what happens next, together, we will be blessed and ready to serve."
Pema Chodron's Fail, Fail Again, Fail Better: Wise Advice for Leaning into the Unknown
Dance/Move:
A free dance class with Debbie Allen.
Debbie Allen was one of the great Broadway dancers, and one of the stars of the TV show Fame in the 1980's. She's now a director of Grey's Anatomy and one of its stars. She also runs a dance academy in Los Angeles. She is teaching a series of dance classes via Instagram. No matter your age or level of fitness, you can dance like a pro with Debbie.
The Radio City Rockettes have just started Instagram dance classes!
Breathe:
This is a great time for a Breath and Energy Orgasm! Download this mp3 and I'll guide you through one.